NN/g UX Conference London
Posted on .
Last week, I've spent some days at the Nielsen Norman Group UX Conference in London. Next to hanging out with inspiring UX-ers from all over the world, I took three great courses. I went home with a great experience and thoughtful insights.
I've spent quite some time on selecting my next course in the UX field of knowledge. I find it hard to determine if a course may fit or be a waste of time as most UX courses are targeting broad audiences and therefore just scratch the surface of a topic. After a lot of comparing and reading even more reviews, I was happy to see that the Nielsen Normen Group was offering courses in specific categories: management, research and interaction-design. That suited my needs as a senior UX-consultant perfectly.
Finding a course is one, getting it fund by your employer is another one as these courses do cost a lot, apart from staying in the center of London. So I decided to go anyway to have that out of the way. But as it doesn't cost anything to ask, I wrote a message to my manager at Alten and she surprised me with an approval. I booked three courses; two in the management cluster and one in research.
UX leader/director
My first class on Saturday was the 'UX leader/director' class in the management cluster by Nancy Dickenson. I signed up to this course as I was curious to what I could learn on setting up UX-teams and on how to lead them towards success. In my work as a consultant I've had several questions on the topic.
The first half of the day was about leadership in general or in businesses. It was quite interesting as Nancy kept relating to real business cases. The second half of the day focused a bit more on leadership in a UX setting.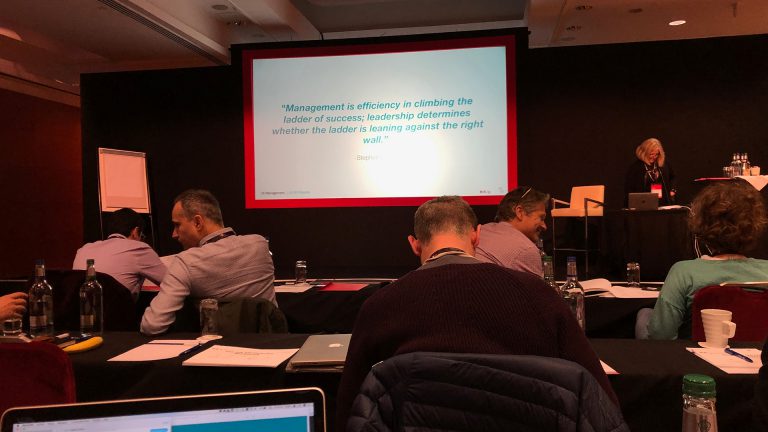 Key findings
Leadership is not a rank, managing is.
You need followers to be a leader, nurture the first followers as they make you a leader.
Leadership is motivational by envisioning. It's about the 'WHY' of things, not the 'HOW'.
Be positive in attitude and outlook.
Reflection
The course contained also a few tests on our own leadership styles (Goleman's six styles of leadership) and behavior. After the test we talked in groups about the results. In my case the tests confirmed what I expected: My strongest leadership style is visionary/authoritative which perfectly fits my consultancy job. My weakest style is direct, so no drill-instructor job for me.
UX strategist
The second class on Sunday, also in the management cluster was the 'UX Strategist' class also by Nancy Dickenson. In my daily work as consultant I'm often occupied with strategic challenges. To see if I'm doing well (or not) I subscribed to this course.
Like the UX leader course on Saturday the day started with a general part on strategic planning. After that, the link between a company's UX maturity level and the UX strategic level was discussed. An example case helped us discuss good strategies.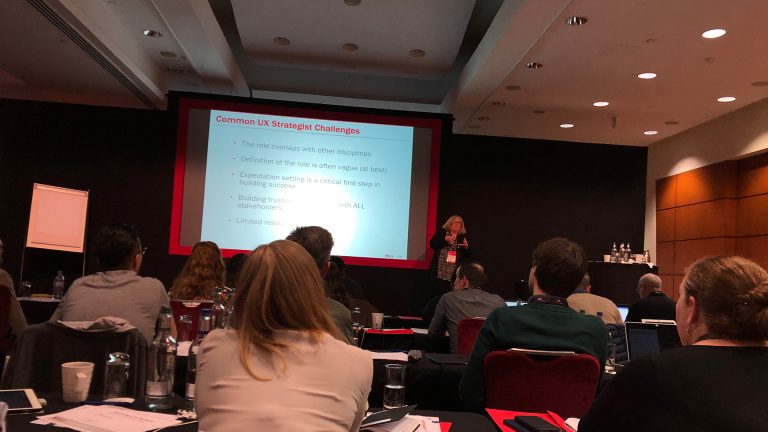 Key findings
UX Strategy is Business Strategy
Authentic vision and deep understanding of customer needs, governance and contingency
Cognitive shift in how the company solves problems (design thinking)
An adaptive approach works best in a consultancy context (agile)
Abbreviations
This class was packed with a lot of nice new buzzwords, so I started a list. Here are the finest:
HIPPO: HIghest Paid Persons Opinion
SPOTS: Strategic Plans On The Shelf
BHAG: Big Hairy Audacious Goal
WOM: Word Of Mouth
VOCP: Voice Of Customer Program
Reflection
After the class I looked back at some projects and found some new opportunities that I'll start exploring right away.
London
At Monday I had no class, so I went to see some of the city. As the weather was nice, I went out to see some of the highlights of the city. First I went to the 'changing of the guards' at Buckingham Palace. Having stared at the parades and the massive crowd, I went through St James's Park towards Downing street. Not much to see over there as it's all barricaded and packed with military police. Also packed was Big Ben as it's being restored. Just around the corner at Ben's is the Houses of Parliament with the statues of famous rulers in the park displayed and a bunch of protesters for the Brexit. I walked by towards the Westminster Abbey, also a must see. Having walked all the time so far, I went to the Tower Bridge by the Underground. The tiny tubes are a hassle if your 2m tall, but they take you everywhere effectively. At the bridge I went for a coffee and snacks to enjoy in the sun at the riverside.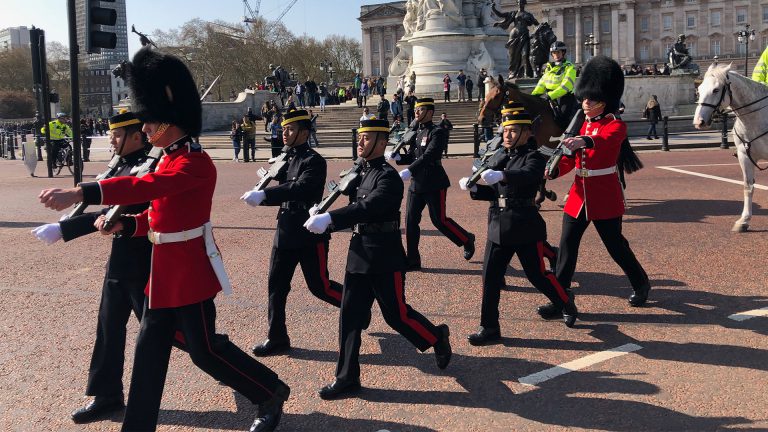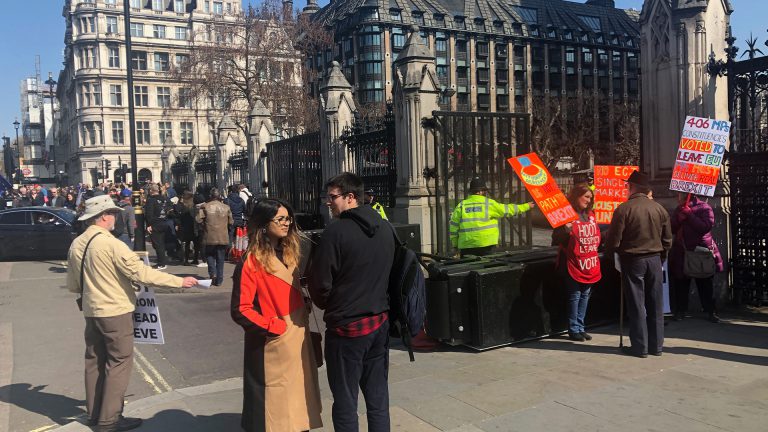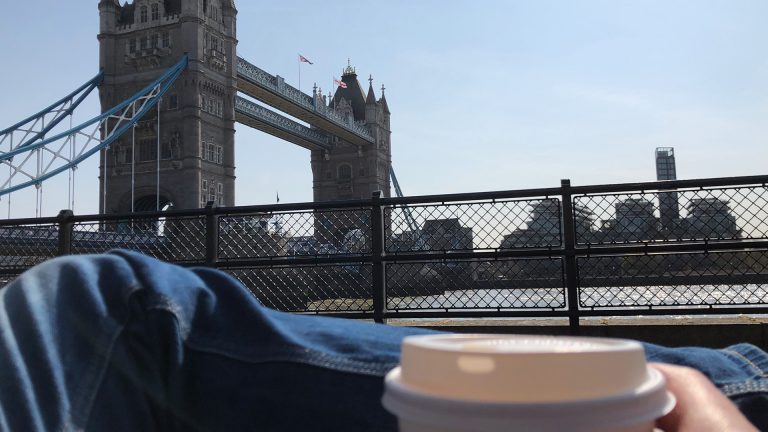 London is a great city to visit if you got the opportunity. It's a huge city, so it's up to you to join the crowds of tourists at all the must-sees or wander through quiet parks that take you right out of the city's hasty pace.
User Journey Mapping
My third and last class on Thursday was the 'User Journey Mapping' class by Alita Joyce. It had been a while since my last user journey mapping workshop as I find it hard to see them practically in my work as consultant. Most of the time I simply don't have enough data to start one at the start of a project and often no budget either to do one later on. Therefore I mostly go for a service blueprint workshop to get at least processes on the table.
The class by Alita was actually a workshop, so group tables and a ready to do vibe was present in the room. Really nice to see all those creative people together discussing and working on their user journey map. We were given a case for someone to change mobile-plans, a scenario everyone can relate to. As the day progressed, we got more data to sharpen our map. I found it quite interesting to see how fast such a thing can derail on a simple task. Therefore I don't think my group ended up with the best map, but we certainly learned a lot from it.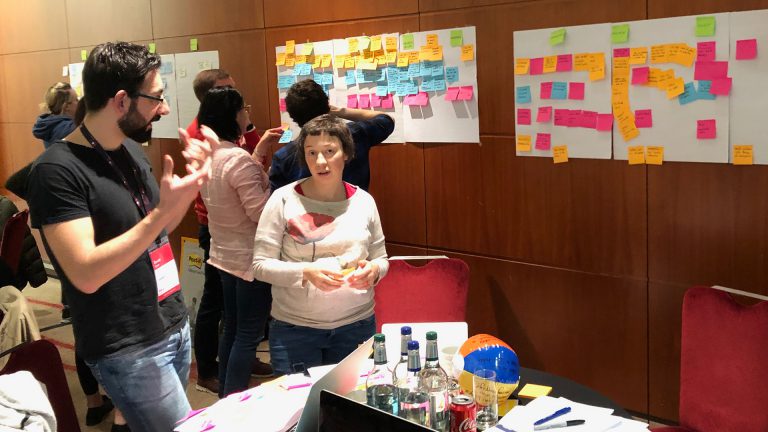 Reflection
It was quite fun to have an active and hands-on workshop after the two slightly more consumable classes earlier. I still don't see me organising a user journey mapping workshop with my clients due to lacking of data to start with. Might be related to the UX maturity level so a long breath might get some action after al.
Exams and certification
Should I take the exams and see if I ever get the certification by NN/g? I discussed this with a few people at the event, some were up to getting the certification and some even the master badge. After the second day, I decided to enrol for the exams and passed them easily. I'll see if I ever have the opportunity to obtain the certification badge that you'll get when you take five courses. If you want the specialty badge for management, research or interaction design, you have to get at least 5 in a single cluster. We'll see what the future brings.
Final thoughts
Would I recommend attending some of these classes? Yes, I certainly would. I think the courses are of great quality and the social aspect of the event is even more worth it. You get to meet, drink beers, eat burgers and chat with UX minded people from all over the world.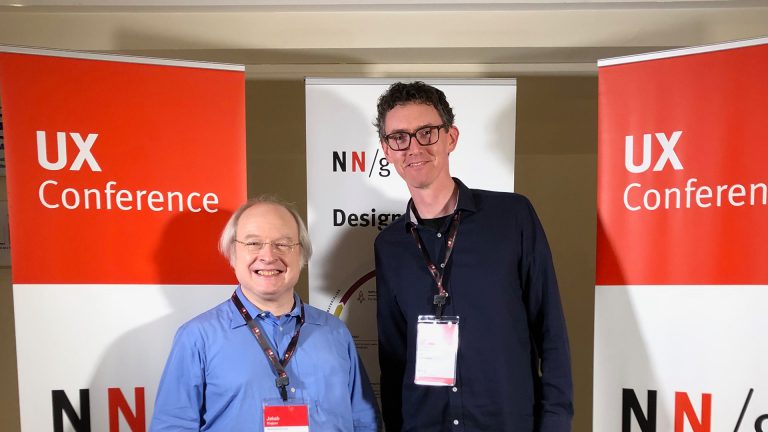 If you're considering attending such an event or want to know more about my findings? Please have a coffee/beer with me and we'll talk it through.